Large and giant dog breeds do take a lot of space, whatever they do and wherever they go. This is why they need XXL dog beds that will match their size, but extra large dog beds are not just bigger versions of small beds, because giant dogs are heavier and their morphology is very much different to medium-sized dogs, thus, large dog breeds require a lot more than a simple bigger surface to lounge on.
XXL Dog Beds Are More Than Bigger Dog Beds
We want dogs to live a healthy life, and just like Chihuahuas have specific needs due to their size, large and giant dog breeds also call for more attention given to some of their specific needs. When buying a large or XXL dog bed, most pet owners will simply go for a regular bed and click the XL size, and here they go, receiving it a couple of days later. What happens next? Their large dog is not lounging on it and clearly doesn't enjoy the new purchase.
The reason is simple, large and giant dog breeds are bigger and heavier. We are talking about breeds such as the Great Dane, Mastiff, Saint Bernard, Rottweiler, Golden Retriever, Labrador, German Shepherd and similarly sized dogs. Their bone structure needs more support and the older they get, the more padding and cushioning these large dog beds must provide.
With so much weight put on these beds, low-quality products will simply flatten after few weeks and become pointless, you may not notice that but your dog will. Orthopaedic memory foam beds are a blessing to dogs' bones, hips and joints but for giant-sized dog breeds, the perfect fit rarely exists as they tend to usually be too small. We've seen people buying regular beanbags and use them as extra large dog sofas but what was a great idea quickly turned into a nightmare: large dogs have powerful jaws, they will break these beanbags within days without any doubt!
Important Features In Dog Beds For Large Dogs
Let's summarise what's important to look at when choosing the right xl or xxl dog bed for your large or giant dog. It is not rocket science but there are a few points that need your full attention:
Memory Foam and Orthopaedic dog beds are ideal for all large dog breeds as they offer a real support and ultimate comfort
Raised dog beds are the first choice for older and senior dogs, they really help reliving your dog's joints and articulations
Thermal materials are not a priority unless your dog is having cold nights
Machine washable covers and blankets are extremely useful for muddy paws, it just saves a lot of time
And again, dog beds for large dogs are items you don't want to be cheap about. As we said previously, cheap large dog beds will flatten and become pointless after few days or a couple of weeks. Understand that what you see is very different to what your dog actually feels.
Top 6 Best XXL Dog Beds For Large Dogs
Here we go with our up-to-date selection and reviews of the best extra large dog beds for your large and giant dog breeds. If you know of any great product that you have tested and approved yourself, drop us a quick email and we'll add it here.
This handmade premium-quality large bed is coming with an ultra-comfortable headrest to better your large companion's lounging experience. Older dogs will definitely like this addition even more since their neck gets fragile and tired over the years.
Inside this orthopaedic extra large dog bed, you will find 7″ of superior quality American-Made foam. Not a Chinese-imported foam, but an ultra-comfortable American foam that will make you want to try it yourself… And you should because we did, and we loved it big time! The support provided by the Big Barker has no contender, it is impressive and completely justifies its high price.
Thanks to the premium-grade materials used during the entire process, this super-sized dog bed for giant breeds is guaranteed to retain its original thickness, padding and support. If not, you get a new bed for free. You can't really go wrong with this, can you?!
**Seller Warranty Description — 10 year guarantee on the foam. We're so confident that this is the best quality foam used in any dog bed, that we'll guarantee that the foam will retain 90% of its loft and comfort for at least 10 years, or we'll replace the bed for free.**
The corners have all been reinforced with an extra layer of ballistic material and all the seams are double stitched using, on top of that, an additional piece of high strength webbing sewn into each seam.
For fashionistas, the K9 Ballistics Original TUFF Bed comes in various colors: red, green, tan, blue and black, but also different sizes: small, medium, large (34″x40″x5″), extra-large (38″x54″x5″) and XX-large (68″x40″x5″).
The first reason why this is a superb product is the patented, chewproof lightweight aircraft-grade aluminum frame that will supports up to 250lbs (115kg) without any problem. It is extremely solid and durable, even with crazy chewers! The reinforcements are clever ways to prevent your dog from breaking the frame.
Another reason for your to become a proud owner of this Kuranda Chewproof Bed is its elevated and raised orthopaedic design. Indeed, you won't have to face the flattening syndrome most thick dog beds are the victims of. With no stuffing at all, this sturdy raised dog bed allows air to circulate so your giant dog naturally regulates his body temperature.
Stuffed with high loft polyester fill for added comfort, the Snoozer Overstuffed Luxury Pet Sofa is a comfortable, yet beautiful and eye-catching extra large dog sofa.
It is an ideal product for any large dog owner who wants a large dog bed that will match his fancy interior design. Some of the more functional dog beds sometimes do not look as good as Snoozer products, and this is the best large dog bed for people looking for a functional but also beautiful extra large dog bed.
Two dobermans can easily fit in one extra-large Snoozer sofa and the overstuffed feel is extremely appealing to dogs who will enjoy spending hours in it.
However, it is not the easiest best to clean. It actually is pretty hard to clean since the center piece does not unzip. You'll have to wash the whole thing and allow it to dry for hours. Only the middle cushion comes out and can be washed.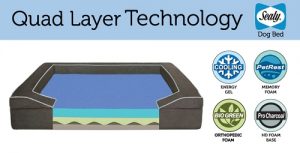 The Sealy Dog Bed, considered by many as the World's #1 Dog Bed, will doubtlessly make a huge difference in your dog's quality of life and comfort. With over 130 years of expert sleep technology experience; the Sealy Dog Bed brings perhaps the most technologically-advanced large dog bed.
The Cooling Energy Gel regulates your dog's body temperature by dissipating heat away from the sleeping surface
The Pet Rest Memory Foam adapts to your pet's body, and quickly adjust to movements and pressure which helps to improve blood circulation
The Bio-Green Orthopedic Foam eliminates and removes pressure points by evenly distributing your dog's bodyweight on the bed's surface
The Pro-Charcoal HD Foam Base adds a further layer of support and absorbs odors so you can space out wash-ups
Sealy also built in some notable and very convenient additions to this already-great large dog bed such as hidden zippers, non-slip bottom and waterproof liner. All these details definitely justify the price and you will absolutely enjoy seeing your dog loving it.
High quality quilted microfibre is used to complement the thick fleece so your dog stays warm while enjoying the soft surface. The cover is removable and a quick machine wash will remove any unwanted odors. The filling used to stuff this XXL dog bed is made of high lofting premium non-allergenic polyester fibres, made here in the United States. Only YKK zippers are used to ensure a long-lasting and durable intensive utilisation by your large and heavy dog.
Definitely a great option if you have a lot of free space at home, but we would not recommend this XXL bed for senior dogs since the support may be insufficient for their joints and bone structure.
Hopefully you have now found your pooch's new favourite large dog bed and if these reviews helped you, please share 🙂
You will love our other article on the most luxurious dog sofa beds and the 10 best designer dog bowls! We have loads of dog supplies reviews, so enjoy reading through them!