A man was going about his morning routine at his home in Kent, England, on Monday morning, getting ready to ring in the new year, when he looked out his window — and discovered that there was a horse stuck in his swimming pool. The poor horse was trying to get out by herself, but kept slipping on the bottom of the pool. The man was worried she may have been there all night, and decided to call the RSPCA for help.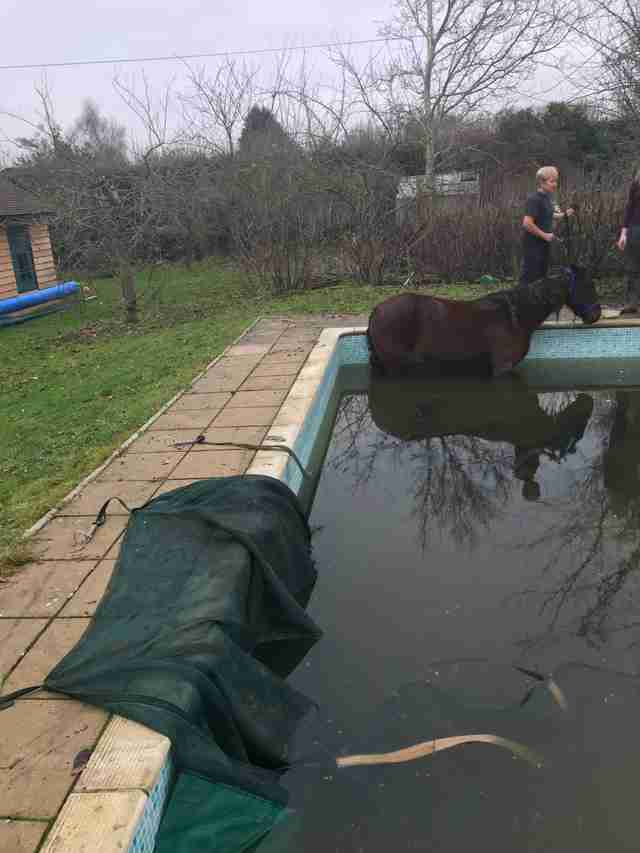 Inspector Rosie Russon and animal collection officer Brian Milligan rushed out to the man's house to assess the situation, and even though they knew what they were walking into, they were still shocked to see a giant horse paddling around a backyard swimming pool.
"She was clearly very cold," Russon said in a press release. "The water was only around 1 [meter] deep so although it came only up to her stomach, she wasn't able to get out of the pool on her own — and I was concerned about her getting hypothermia."
Unfortunately, Russon and Milligan didn't have the equipment they would need to help get the horse out of the pool, and so they contacted the Kent Fire & Rescue Service for additional assistance.
After assessing the situation themselves, the firefighters were able to secure some straps around the horse …
… attach her to a crane …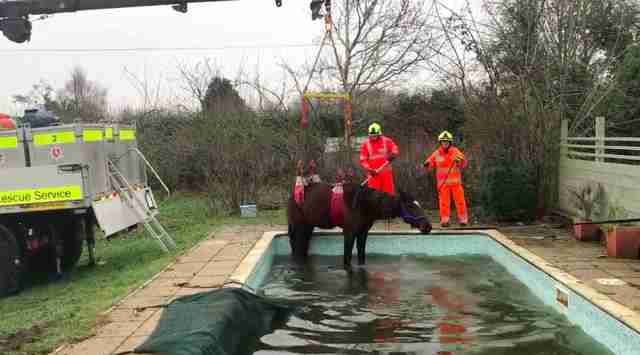 … and slowly lift her out of the pool and over to the grass, where she was finally safe.
Her rescuers decided to name her Ellie after the Paralympic swimming champion Ellie Simmonds, and quickly rushed her to the vet to get checked out. It was determined that she was around 4 years old, and while she had a microchip, it wasn't registered — meaning there was no way to track down where she came from.
"She has some minor injuries to her legs where she fell through the pool lining and hit the bottom but, other than that, she's been very lucky," Russon said.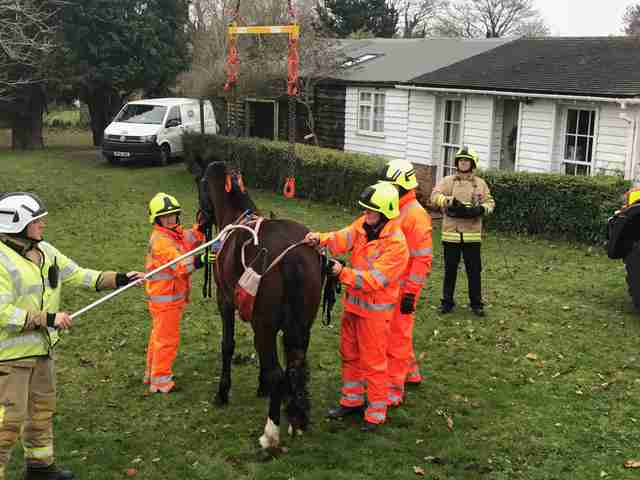 Ellie is now in the care of the RSPCA at a private boarding establishment, where she'll stay while she heals and recovers from her ordeal. If no one comes forward to claim her, her rescuers will set about searching for a forever home for her once she's strong enough.
It is very likely that Ellie got lost somehow and fell into the swimming pool while she was wandering around alone in the dark. Luckily, she was found by the right people, and will now be safe and cared for until she finally finds the perfect forever home.