Stormy is the perfect family dog. He's good with kids, he's good with dogs, he's good with cats. He's gentle and affectionate and playful. But when his family had a fifth baby, they decided he didn't belong anymore.
"He spent all of his life with a family with four children, two [other] dogs — one small, one big — and a cat," Alana Guerrini, a volunteer and foster carer for Eleventh Hour Rescue, told us. "Then the woman got pregnant and had her fifth baby, and decided that he was too much."
Stormy, who used to be called Freshy, ended up at a busy Brooklyn shelter.
"You could see the fear and terror in his eyes in that picture [at the shelter], and you could see how brokenhearted he was," Guerrini said. "I looked at that face, and it absolutely crushed me."
Luckily for Stormy, Guerrini spotted his profile and hurried to get him out — but it was a close call, she said.
"He was due to be put down at 5 o'clock, and it was 4:58 or 4:59 when we got the word that 'We'll let you take him, and he's officially yours and off of death row,'" Guerrini said.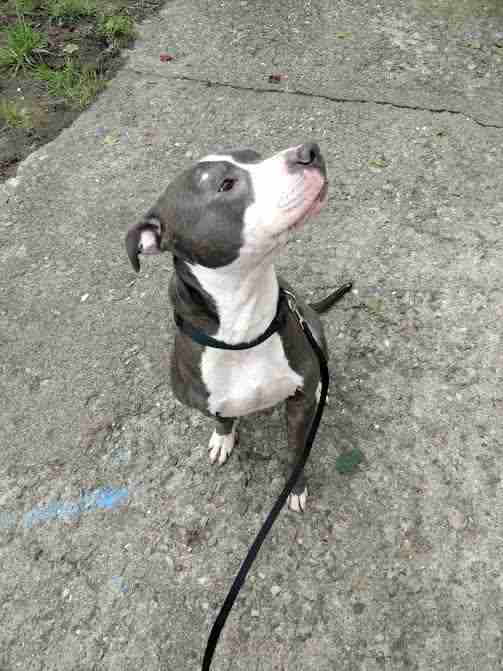 Last Thursday, Guerrini and her 16-year-old son picked up Stormy and drove him to their home in New Jersey, where Stormy will be fostered until he finds a forever home.
"He jumped into my car with no problems," Guerrini said. "My son had gotten into the passenger seat, and he [Stormy] just climbed up onto my son's lap, and you could see that with every little wiggle and face kiss that he was thanking him because he knew that he was going to live. He's an angel."
"He wanted to sit in my son's lap the whole time, so my son had to get into the back seat, and he spent an hour and a half riding home on my son's lap," Guerrini added. "The only time he got off of it was the dozen times he wanted to kiss me, too."
Guerrini could clearly see that Stormy had lived with a family before, but she was astounded to see how gentle he was with her son.
"He was wrestling with my son, and my son's hand went into the dog's mouth … and the dog left his mouth open and slowly backed his head away so he wouldn't even scratch him," Guerrini said. "That's when I knew that I was madly in love with this dog."
Stormy was also very attentive when Guerrin's son wasn't feeling well.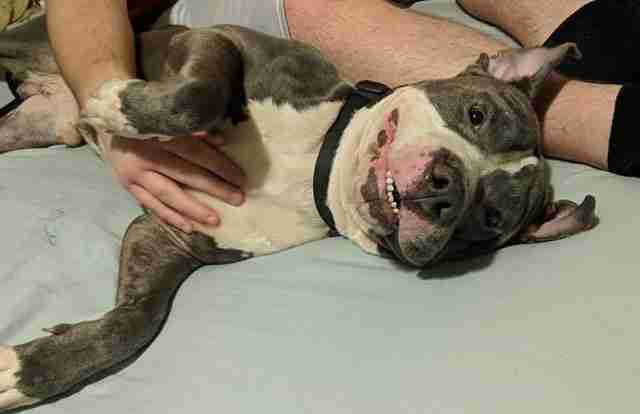 "He stayed in the room with him all day and nuzzled up with him," she said. "And when my son got up, he was just following him around. He just wants to interact with people and be loved."
Guerrini still can't believe Stormy's former family gave him up in the first place — but she hopes that another family will recognize him as a treasure, and give him the home he deserves.
"He's a playful, 2-year-old pit bull," Guerrini said. "I do have to say because he is one of my favorites that I'm very picky, so I need to find the best home out there."