The Ultimate List of Black Dog Names
Need a few great black dog names for that new love in your life?
You're here because you've recently adopted or are thinking about getting a black dog and need the perfect name to reflect that lovely shiny coat.
There are many ways to choose a name for a small dog, but finding a name that reflects the colour of his/her hair is a popular choice.
We have compiled a list of possible names for your black dog.
We've included names of black objects found in nature, either in the form of animals, plants or minerals, and others that are man-made.
Any animals that have black fur, fins or feathers, were fair game and added to the list.
You'll also find names borrowed for languages other than English.  You'll find names from books, folklore, and the movies.  Some names only suggest the colour of black.
My favourites come from edible (or drinkable) sources, but those are few and far between because people just don't eat many black things.
Some of the names may be appropriate for a girl and others for a boy, and some would be fine for either.
We'll let you be the judge of that.  Does your dog have black and white hair?  Check out our black and white dog names for some more suggestions.
Affenpinscher
Cesky Terrier
Cocker Spaniel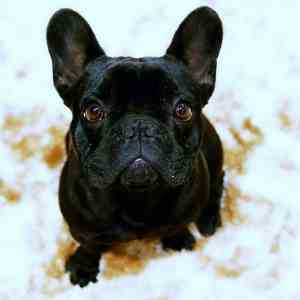 French Bulldog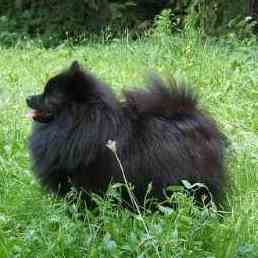 German Spitz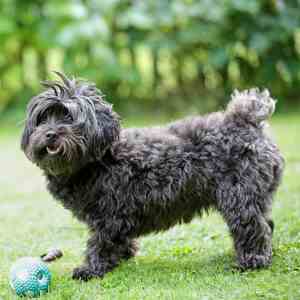 Havanese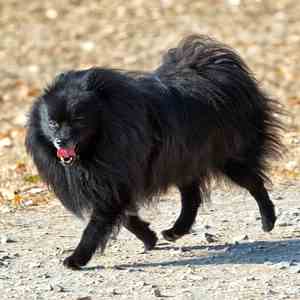 Pomeranian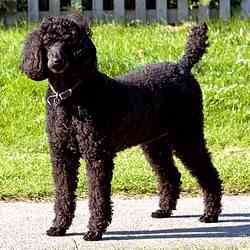 Poodle
Pug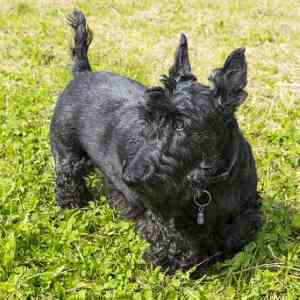 Scottish Terrier
Schipperke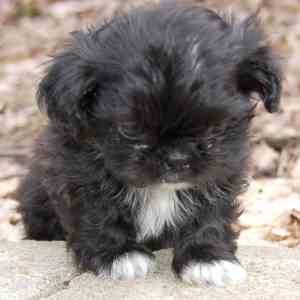 Shih Tzu
Black Hybrid Breeds
Maltese and Shih Tzu Hybrid
Bichon Frise and Cocker Spaniel Mix
Got Some Great Ideas for Black Dog Names?
Black Dog Names A to Z
Ace
Agate
Angus
Ash
Ashes
Asphalt
Aye Aye
Bandit
Batman
Beans
Bear
Beetle
Blackbean
Blackjack (Jack for short)
Blackberry
Blackbird
(Black)Beauty
Black Mamba
Black Pearl
Black Rose
Blackie
Bonfire
Bullet
Carbon
Charcoal or Coal (Cole) for short
Checkers
Cinder
Clubs
Coffee
Cola
Cosmo
Currant
Dark Star
Demon
Dice
Domino
Dot
Dusty
Ebony
Eclipse
Eightball
Elvira
Ember
Espresso
Galaxy
Gothic
Graphite
Gypsy
Hershey
Hitchcock
Indigo
Inkblot
Inkwell
Inky
Jackal
Jaguar
Knight
Kuro (Japanese – black)
Lava
Leopard
Licorice
Magic
Magpie
Mamba
Manson
Merlin
Midnight
Mystery
Noir
Nimbus
Ninja
Obsidian
Oboe
Onyx
Opal
Oreo
Ozzie
Panda Bear
Panther
Penguin
Pepper
Pepsi
Phantom
Preto (Portuguese for black)
Puma
Raven
Raisin
Rocket
Rorschach
Shadow
Shady
Silhouette
Silky
Smoky
Spade
Spot
Stallion
Stella Luna
Stormy
Tarmac
Tattoo
Thunder
Twilight
Vadar
Velcro
Velvet
Voodoo
Vortex
Zorro
More Dog Name Ideas
Ideas from Our Readers:
Ivy from Tennessee, USA Offered these ideas:
Ruger
Hatchie
Skunk (Good for a Black & White Dog)
Winchester
Timber
Cracker jack
Storm
Jadyn from Valparaiso, Indiana USA suggested the following great names for your black dog:
Poppy
Pepper
Penny
Jana
Jaja
Joni
Jojo
Barney
KoKo for Cocoa
Shadeaux – Sounds like "Shadow" but with a French twist
PJ for a peanut butter and jelly dog (brown and red)
Cole is short for Charcoal or coal
Sabian – For Sabian Holmes, a famous black man
Elvin – Famous black drummer Elvin Jones
Clarke – Famous black drummer Kenny Clarke
Prince
Winston
Brandon
Buddy
Baxter
Quick Rules for Choosing a Name
When you choose a name, say it aloud to be sure you feel comfortable with the name.  You'll need to repeat this name at the veterinary hospital, doggie daycare, and puppy kindergarten classes.  You might need to call your dog from a distance so choose a name you feel very comfortable with for the life of your small dog.
Choose a name that has a unique beginning sound.  If you have more than one pet and each name sounds alike, dogs will not be able to recognize their own.  It might be appealing to name your dogs, Alexander and Alexandra, but the dogs may not think it so cute.
If you plan to teach obedience commands to your dog (and you should) remember that preceding each command, you will want to say your dog's name.  If the dog's name is too long, consider a shorter alternative or version of the same name. You could use the name "Rose" short for Black Rose or "Beans" short for Blackbeans.
Have a suggestion for a black dog name.  Take a moment and add it to our ever-growing list.  Use the form below our list of black dog names to submit your ideas.
We will evaluate any name for appropriateness on this site and add accordingly.  You are also welcome to add photos and a short story about your favourite black dog.
Have a great name or story to tell about your Black Dog?  We'd love to hear it.  Use the form below to tell the world about your favourite black dog.
Your Black Dog
There are many small breed dogs that are black. Do you have or have had a small black dog. We'd like to hear about your dog? What is your dog's name? What breed? What are some special characteristics about him or her that makes them unique? Does he do tricks? Do you have a great story about a black dog Please share it. Don't forget to upload some photos.